A Thompson - Atkinson Connection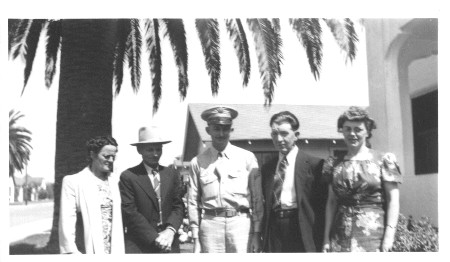 Left to right:

Hertha (Lovelace) Atkinson
Clark Atkinson
Verle Atkinson (in US Army uniform)
Delbert "Dutch" Thompson
Grace (Strauby) Thompson
Verle is a son of Emmett Atkinson, who was married to Nellie (Thompson) Atkinson. Clark was a brother of Emmett. Delbert was a brother of Nellie. We believe this picture was taken in 1944 in front of the Thompson house in Lynwood, California.
It's a small world - or - everybody from Pike County, Missouri is related.
These Atkinsons and Grace Strauby have a common ancestor in Joel Willis (1768-1853).
---
Click here to go back to the home page.